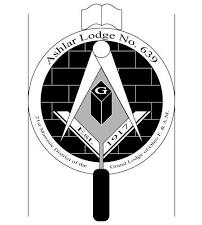 Next Gavel Drops In:
Stay Safe and Healthy Brethren!
Congratulations Brethren!
Travel Gavel!
01/30/2020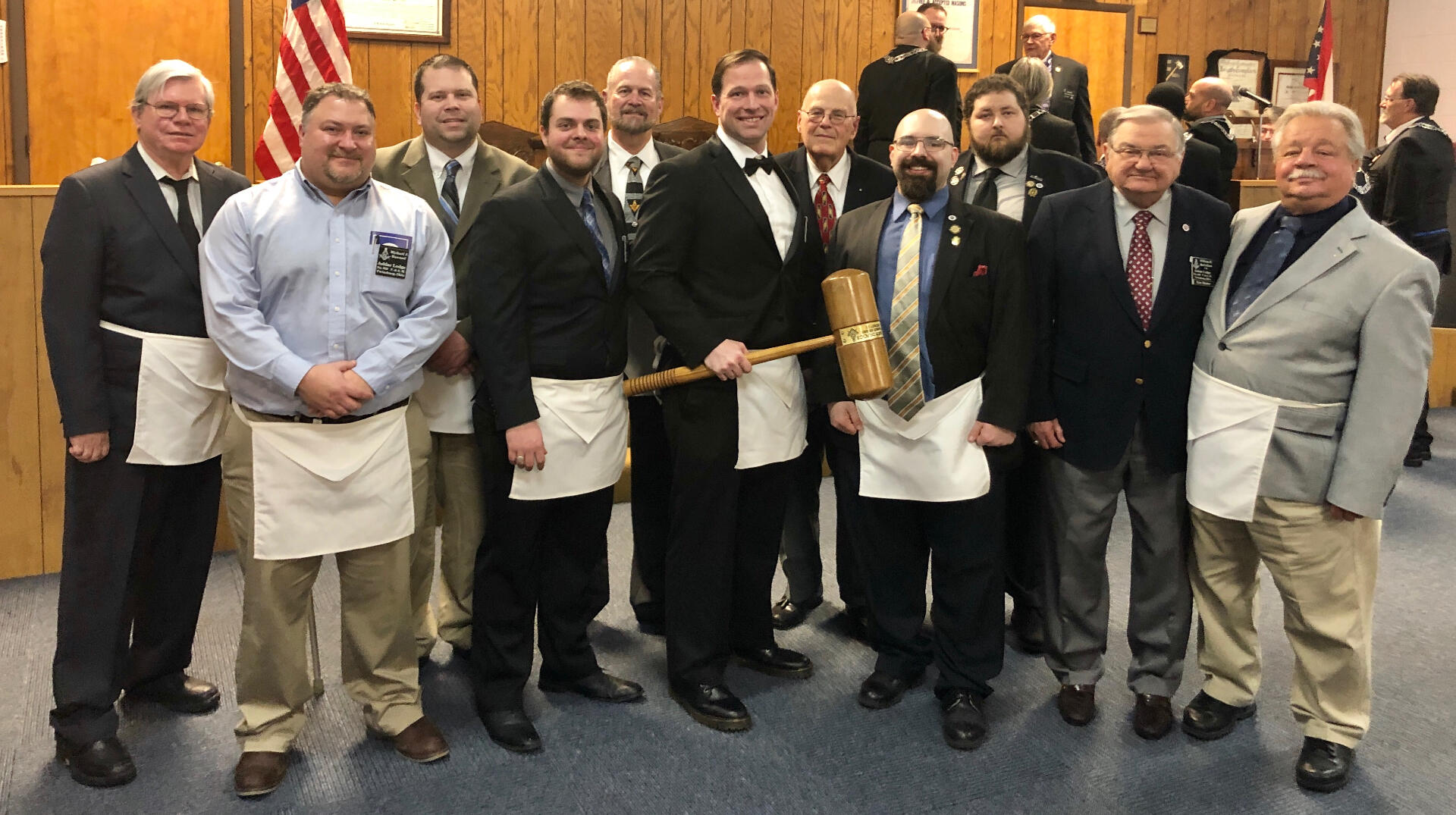 WHAT IS FREEMASONRY?
Freemasonry is the leading fraternal organization in the world. Its origins are lost in the unrecorded history of medieval times, but it formally organized in London, England, in 1717. Current worldwide membership totals over 3 million members, 1.1 million of whom are in North America. With 75,000 Masons and 450 local Lodges, Ohio has one of the largest Masonic memberships of any state in the country.

As a fraternal organization, Freemasonry unites men of good character who, though of different religious, ethnic or social backgrounds, share a belief in the fatherhood of God and the brotherhood of mankind.
The Origins of FreeMasonry
Why Join?
By joining Freemasonry, you'll be making a commitment to yourself and to your Brother Masons to be the best man you can be. And by taking the obligations of this ancient Fraternity, you will be joining millions of Freemasons across the globe who are also committed to helping each other develop their potential and improve the quality of life for themselves, their families, and communities.

By joining, you will become the latest in a long line of men from all walks of life – world leaders and everyday men – who have found inspiration in Freemasonry, and who strive to live by the values of honor, integrity, equality and brotherhood.

When you become a Mason, you join a lodge, which can be thought of as the local chapter or club of the larger organization, the Grand Lodge. The name goes back hundreds of years, to when all Masons were taught, "A Lodge is a place where members assemble and work." That idea still holds true today, and we talk about joining "the Lodge."
---
Are You Ready?
QUALIFICATIONS FOR MEMBERSHIP
Not everyone can or should be an Ohio Mason. You must live in Ohio and meet all of our membership qualifications.

If you already live in Ohio and want to become a Mason and member of The Grand Lodge of Ohio, you must meet all of the following criteria:

-Be a male at least 19 years old
-Be an Ohio resident for at least six months
-Be able to read and write English
-Be prepared to profess a belief in Deity
-Be of good reputation as a man of honor and integrity
-Be recommended by two members of the Lodge they wish to join.
---
The History Of Ashlar Lodge #639
In presenting the history of Ashlar Lodge, we mention the fact that the vision of the Masonic Temple at 8910 Miles Park Avenue and the further realization of the need of a new Lodge of Free and Accepted Masons in this vicinity prompted the organization of our Lodge.

At a meeting held November 9th, 1916, in the Masonic Lodge Room at 8444 Broadway, plans of organization were formulated. A petition for Dispensation was drawn up and at a meeting on March 1, 1917, the name of our Lodge was decided upon. The first meeting was held on May 31, 1917.

At the meeting of the Grand Lodge of Ohio, F. & A.M. held in Springfield in October, 1917, the Dispensation was returned and a Charter granted to the Lodge, the number being 639. On November 1, 1917, the Formal Constitution and Consecration took place. During the period of Dispensation from May 31, 1917, to October 18, 1917, fourteen petitions were received, the Entered Apprentice Degree conferred upon nine candidates, the Fellow Craft Degree on seven and seven were raised to the Sublime Degree of Master Mason.

In the spring of 1969, Newburgh Temple Company, due to increasing maintenance and lack of secure parking, elected to place Newburg Temple for sale. After investigation by the committee, Ashlar Lodge accepted the proposal of Bedford Masonic Temple Association and in the fall of 1969 moved to Bedford Masonic Temple, 38 Tarbell Avenue, Bedford, Ohio.

In the fall of 1984, Emmanuel Lodge #605, due to declining attendance, appointed a Committee on Consolidation. After visiting various lodges in the district, it was recommended that Emmanuel Lodge #605 consolidate with Ashlar Lodge #639. On December 6, 1984, a resolution was read in Emmanuel Lodge #605 to consolidate with Ashlar Lodge #639. A ballot on the resolution was taken on Thursday, January 17, 1985, and was passed unanimously. Approval for the consolidation was given by the Grand Lodge of Ohio, effective April 1, 1985.

Due to a variety of issues at The Bedford Temple, a committee was formed during the fall of 1985 to devise the best plan of action for Ashlar Lodge: to stay where we were, build our own building or move to a new location. In the spring of 1986 the committee recommended that Ashlar Lodge move to Maple Heights Masonic Temple at 5185 Lee Road in Maple Heights, Ohio and the move took place in the summer of 1986.

From the beginning, the relocation to Maple Heights was considered temporary. The Temple was small and it was necessary to rent additional storage space elsewhere. As a result, a building committee was formed and several sites were investigated with the intention of Ashlar Lodge possibly purchasing its own Temple.

In the spring of 1990, a visit was made to Summit Masonic Temple in Twinsburg and ultimately Ashlar Lodge relocated to the Summit Masonic Temple on August 1, 1991.
Come and Visit Us
GET IN CONTACT WITH A MASON IN TWINSBURG
Contact us for information about freemasonry or if you have questions that a Mason in Twinsburg could help answer.

Ashlar Lodge #639 F&AM
9545 Shepard Road, Macedonia, Ohio 44056, United States

Hours
Stated Meetings - 2nd Wednesday of every month at 7:30 pm
---
---
© Ashlar Lodge. All rights reserved.
Great Choice!
We will be in contact with you shortly and we look forward to speaking with you!
Shred Day 2021
Come join us for our annual community shred day with Ashlar Lodge #639
We will host the event at Summit Masonic Temple in Twinsburg, Ohio on Saturday, June 26th from 9:00 am to 12:00 pm

All Proceeds go towards supporting the local Special Olympics.

Can't Make It, but would like to donate?
Click the Button Below and select your donation amount!
Shred Day 2020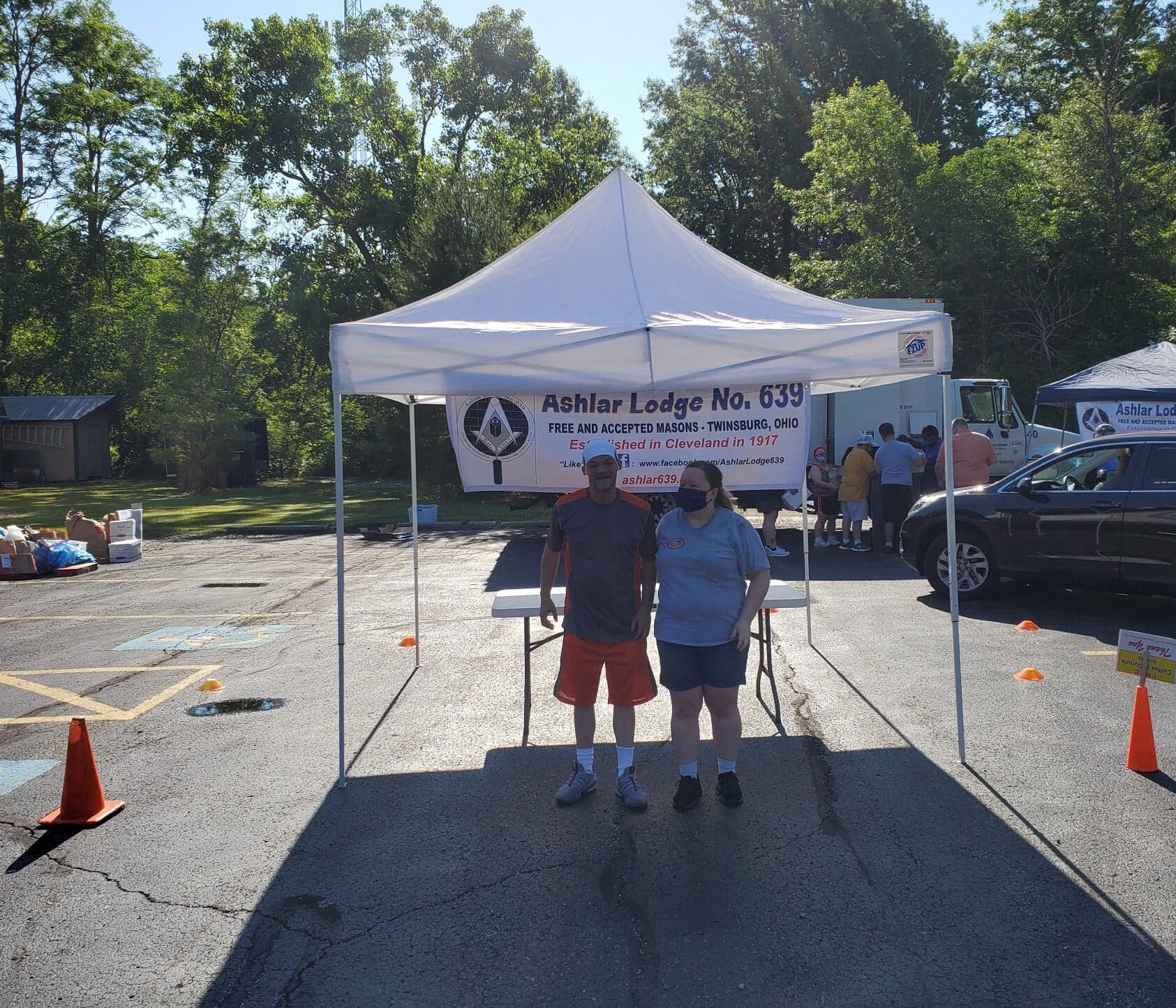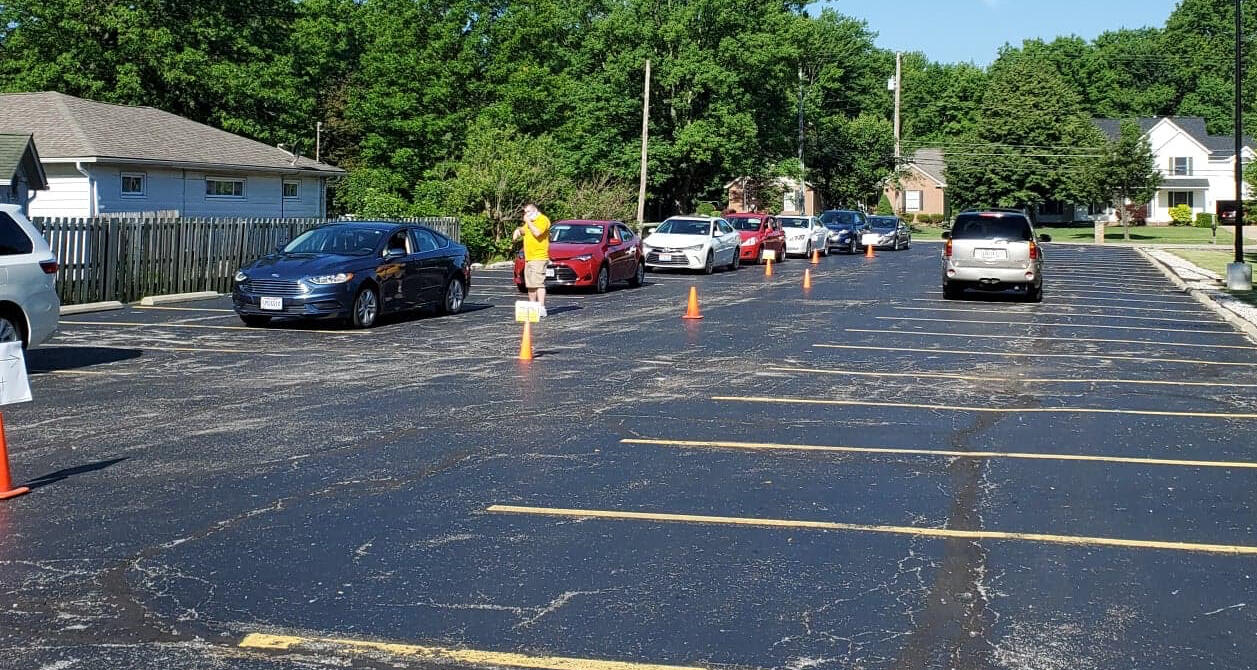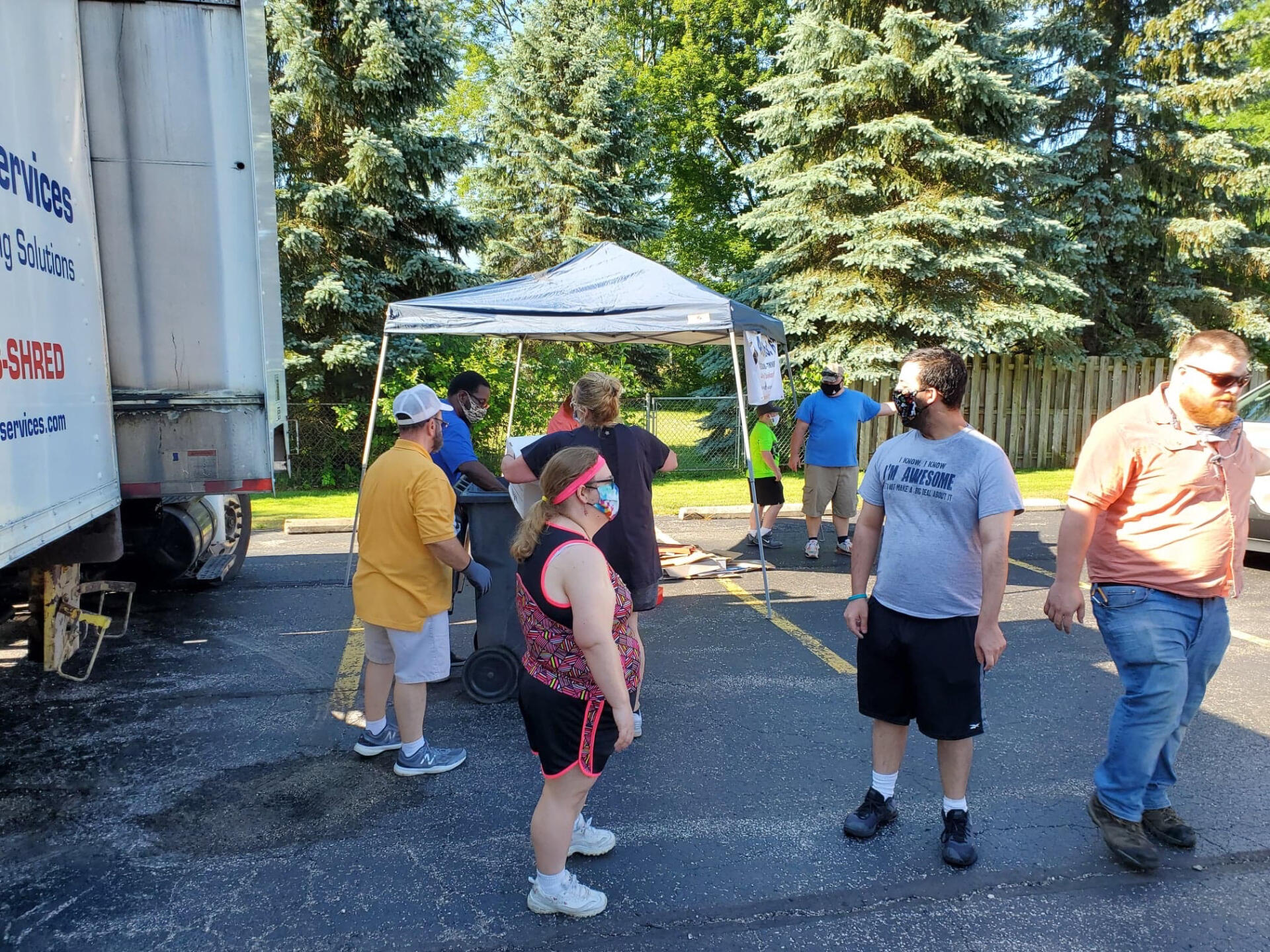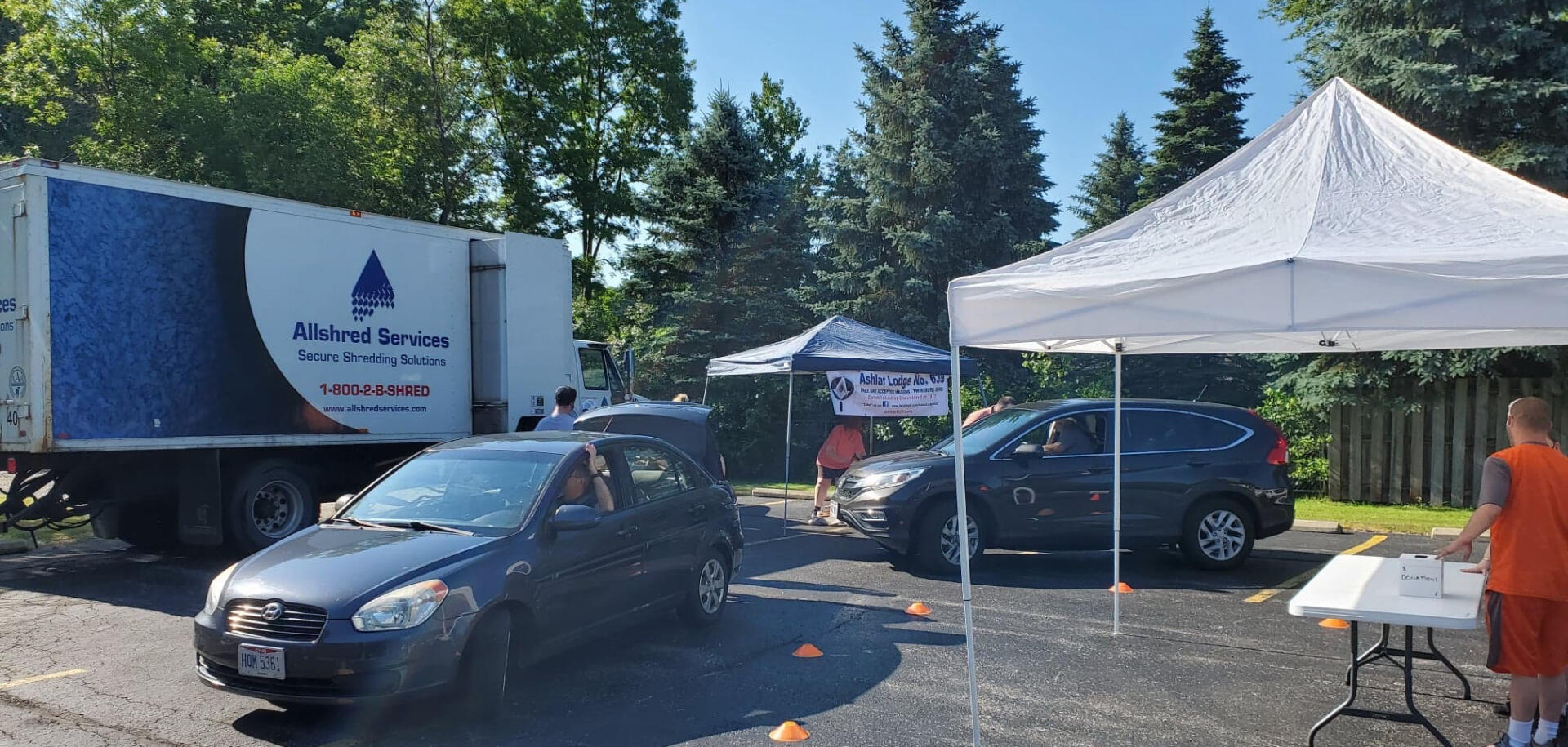 Thank You for joining us for our annual community shred day with Ashlar Lodge #639
Summit Masonic Temple in Twinsburg, Ohio on Saturday, June 20th from 9:00 am to 12:00 pm

All Proceeds go towards supporting the local Special Olympics.

Can't Make It, but would like to donate?
Click the Button Below and select your donation amount!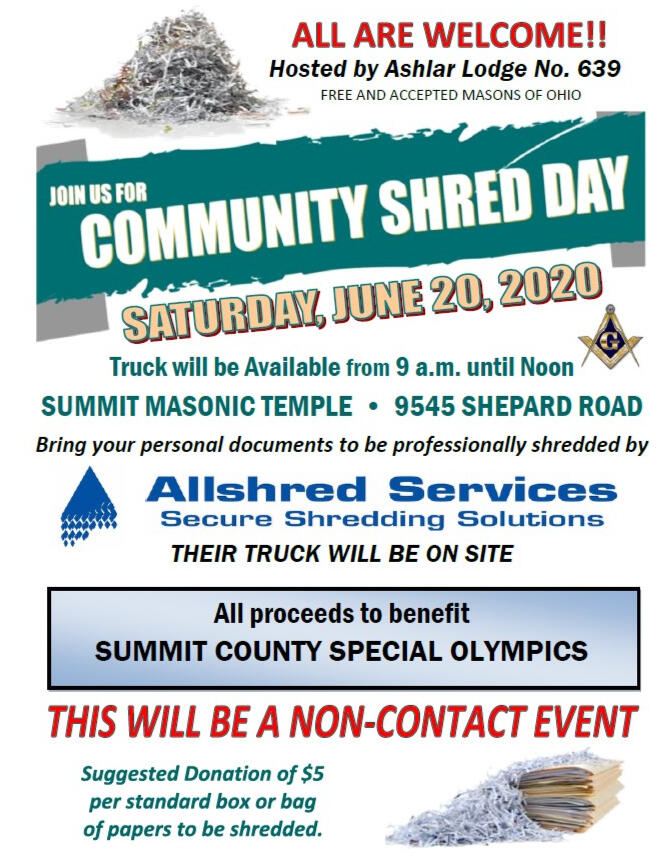 Ashlar #639 Corn Beef and Cabbage
Please join us for a home-cooked Fundraising Dinner for Ashlar Lodge #639 at the Summit Masonic Temple in Twinsburg, Ohio on Saturday, March 14th from 3:00 pm to 5:30 pm

Join Ashlar Lodge # 639 Ohio with our annual and delicious culinary event. Cost for the dinner will be $17 for adults and Kids 6 and under are Free The menu will include:

• Corn Beef, Cabbage, Carrots, and Dessert (pie and bakery)
• Coffee, Water, Iced Tea, and soda to drink

Please share this information with anyone that you would like, All are invited to join us.

You can RSVP Right below and Pre-pay for your dinner via Paypal or feel free to RSVP to WM Dale Godbey by Wednesday, March 11th via phone or text at 440-201-9199 and pay at the door.

Look forward to seeing you there!
---
Dues and Petition Fees $309
LODGE CURRENTLY IN SESSION